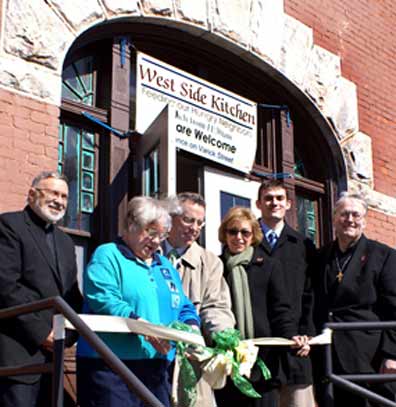 Feeding Our Hungry Neighbors
Blessed Mother Marianne Cope grew up in West Utica and went on to devote the last 30 years of her life to the lepers of Hawaii's Molokai.
Now her name embraces hospitality to those in need in her home town, with a soup kitchen at St. Joseph-St. Patrick Parish Center at Varick and Columbia streets, Utica, NY.
Called Mother Marianne's West Side Kitchen, the all-volunteer operation serves hot lunches (such as soup and sandwich) from 11:30 to 12:30 Monday through Friday, and a bag lunch on Saturday and Sunday.
A coordinating group, led by Deacon Gilbert Nadeau, is the organizing force behind the soup kitchen. The group includes parishioners, friends of the parish, and members of the Secular Franciscan Order.

Lunch served daily 11:30 to 12:30
Soup or other hot item, and sandwich, Monday-Friday
Bag Lunch, Saturday-Sundays


Volunteers NEEDED:

Thursday night food prep volunteers (every other Thursday).
Daytime serving/greeting volunteers.

Click here to volunteer
or call/email Vicki Montalbano: 315-735-3284; vickimontalbano@verizon.net
3rd Anniversary Milestone: 70,000 Blessings Later (March 19, 2011)
Soup Kitchen Open on Christmas Day (No Day Off for Hunger) (Dec. 23, 2010)
RCIL Honors Deacon Gil, Volunteers; Meals Top 65,000 (Oct. 24, 2010)
Soup Kitchen Hits New Milestone of Serving 50,000 Meals (May 10, 2010)
Deacon Gil Nadeau Gives Annual Report to Parish (Dec. 13, 2009)
Soup Kitchen, 14 Other Agencies Get $1,000 Each from Hannaford (Nov. 20, 2009)